(Most) everything I sewed in 2017
I sewed so many things in 2017! I had no idea.
The very first thing I sewed this year was the See Kate Sew mermaid sleeper. I used some old clothes that had been hand me downed to me that were nowhere near my style or size. The colourful stuff is woven. I used a straight stitch. I had no idea what I didn't know and I loved the sleeper for my baby even though seams popped under his armpit like crazy.
Then came matching mum and son shorts. Much more within my existing skill set. Grabbed the fabric (a midweight stretch cotton) at Fabricland, used the Brindille and Twig summer romper for my boy and XXXX for me. Mine are a bit big, but isn't that the way of Big 4 patterns (honestly until this year I just thought I was bad at choosing a size, not that they had crazy ease.)? I'm learning! His shorts are so crazy adorable. Probably gonna have to make this again in the summer.
Fell in love with the Brindille and Twig style, and bought a handful more of their patterns. I'd been wanting more kimono bodysuits for baby, so that was first up. Wavy binding, the snaps want to pull through (i used size 20s), a million little mistakes, and I love it.
Made another kimono bodysuit as a baby shower gift, much smaller, better, and with metal snaps.
Had some hand me down shirts kicking around, so I experimented with this whole "sewing knits differently from how you do a quilting cotton". For the Crawl so Hard(er) (What is with this slogan? My dear Meagan sent me this shirt she found second hand, best guess is it must have been a pub crawl thing.) I used an old cute burp cloth for the binding. Messy stitching all over the bottom to make the snap placket, which didn't rip this time. The top half was copied from the mermaid romper, the bottom I just drew freehand. For the Star Trek, I decided to use the T-shirt's existing neck (wayyyy too big looking on a baby, noted) and severely mis-eyeballed the leg area. Very 80's beach babe.
Also tried out some colour blocking, after just hacking off the bottom of that great mermaid sleeper. Didn't do any hems on this, but my binding is getting better.
We have here a shirt my partner made (his first ever sewing project!), the Apple Tree Sewing On the Grow Romper in a Kapynen CL (gorgeous), a couple balls made with scraps and stuffed with knit scraps, and the Brindille and Twig Harem Coverall hacked into shorts, snap placket added, and made with one of my old Physics T-shirts. I'm really happy with both of these rompers, like, look at that silly little "Applied String" appliqué! Other important note: the ball on the right is a regular dodecahedron, using the mapping to use 4 colours with no same colours touching.
this romper is truly too cute. this is the size 1-3 on my oversized 7 month old
And a scrappy AC/DC onesie. The little triangle bit up top is a pocket... pointless for a baby, obviously, but made it feel more balanced. Biiiit of a wide neck...
A couple more On the Grow rompers for friends, both size 3-12 months. This way you can see how much they really do grow! The one on the left was made from a dress that was all bias cut and lined with fabric from lightweight tanktop. The one on the right used some Art Gallery print and a poly-lycra for the cuffs. I even made a little hand printed tag for that one (it was my first-ever commission). I added snaps to both, from cuff to cuff.
Yet another scrappy kimono bodysuit! This one from an old dress of mine - I also made a girlfriend a mermaid sleeper from it (no pictures of that). I'm pretty pleased with how the scrappy bits came together. I really hate throwing out fabric. Used some bits from another tshirt for the sleeves and leftovers from a sewing project my mom did for the binding.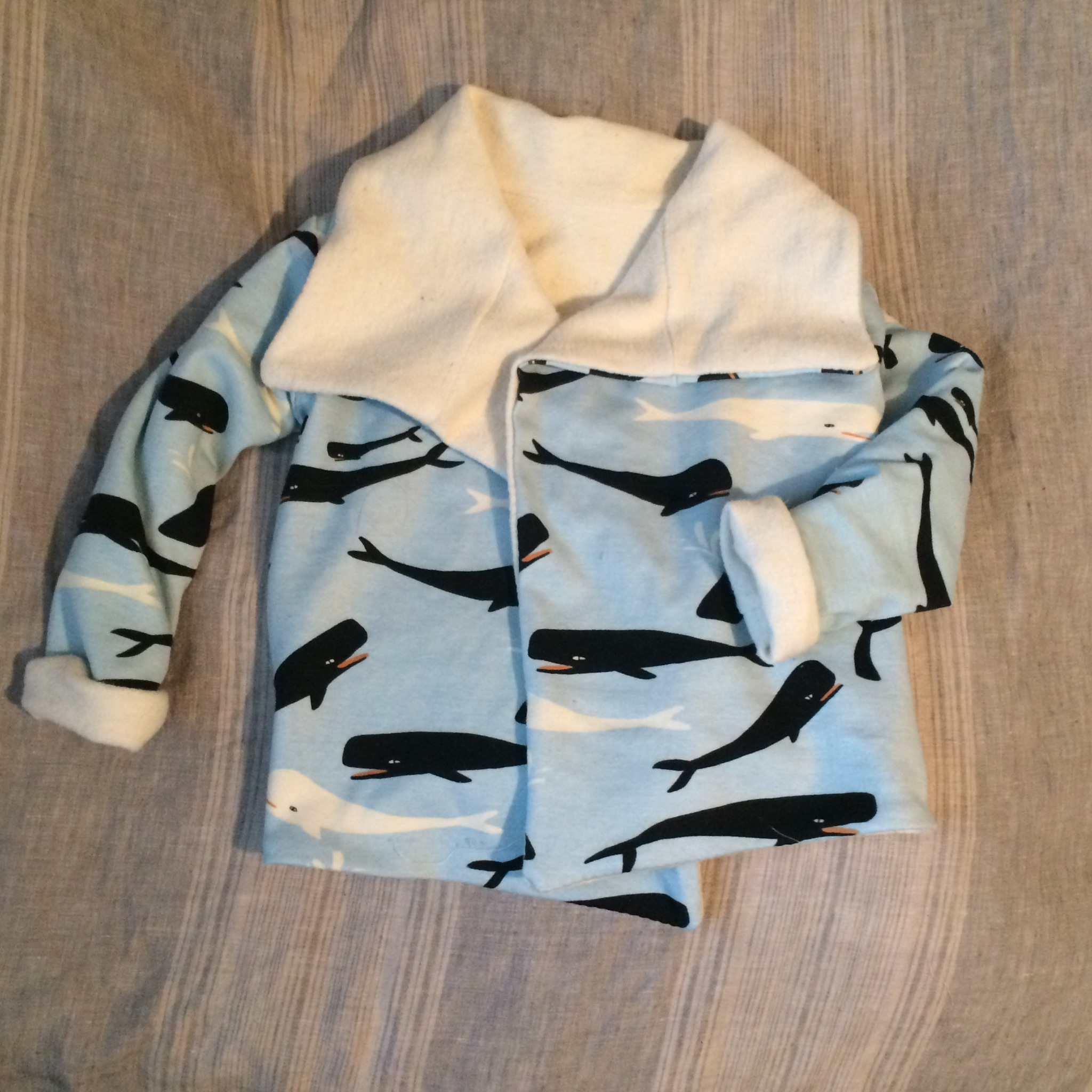 This here is the Brindille and Twig reversible wrap sweater in size 24m. I should definitely have used stretchier fabrics, but it's fine. The whales are from Birch and the lining is leftover from a diaper insert making session, lovely hemp fleece from Simplifi.
Found this men's Tshirt at the YWCA opportunity shop, turned it into a bodysuit. As you can see, my shape on the bottom half is improving vastly. I also kind of love the sleeve that's composed of sleeve bits to make enough for long.
On the left, I drafted (in the loosest sense of the term, really) this sleep sack, and learned a bunch about lining in the process. The boy's already growing out of it, which is a dang shame! I really couldn't wrap my head around making the chin guard, but next time I have a much better idea for that. The bears are a summer sweat from About Blue. On the right is a sweater shoe (the other was lost before I ever took a photo), made with scraps and a bit of elastic.
On a scrap busting kick (and when I use scraps, I mean SCRAPS), I made a few baby toques. All are combos of various bits of clothes (like the ribbing from sweaters) and leftover fabrics. I'm loving using Delia Creates' pattern. I also (much earlier in the year, but who's counting?) made this baby Sex and the City t-shirt with the B&T ringer T pattern.
More bears had to be used. In the same vein as scrapbusting, I find it satisfying to use up the entirety of a fabric in short order so it's a zero scrap game. Hence two pairs of bunny bottoms and a grow fonder from Apple Tree <3. And the bunny bottoms begat more bunny bottoms to experiment with all pocket views, and to test the whole concept of batch sewing, so I also made a pair from a silly splotchy paint-pattern women's shirt I'd picked up for 50 cents at the Persephone costume sale, intended for just such a baby-purpose.
For Matthew's birthday, I made the baby a onesie and used freezer paper to print on it. Because, obviously.
For halloween, I made baby an ewok costume with a couple of thrift store finds, and took an old canvas curtain and turned it into an apron for my Linda Belcher costume, which was done in an afternoon and I am very happy w/, also because now we have a super sensible unisex apron for the kitchen (to which I should really add a front pocket).
A standard distribution plush, but i got bored embroidering on the standard deviation lines, so there's just the true average one 🤷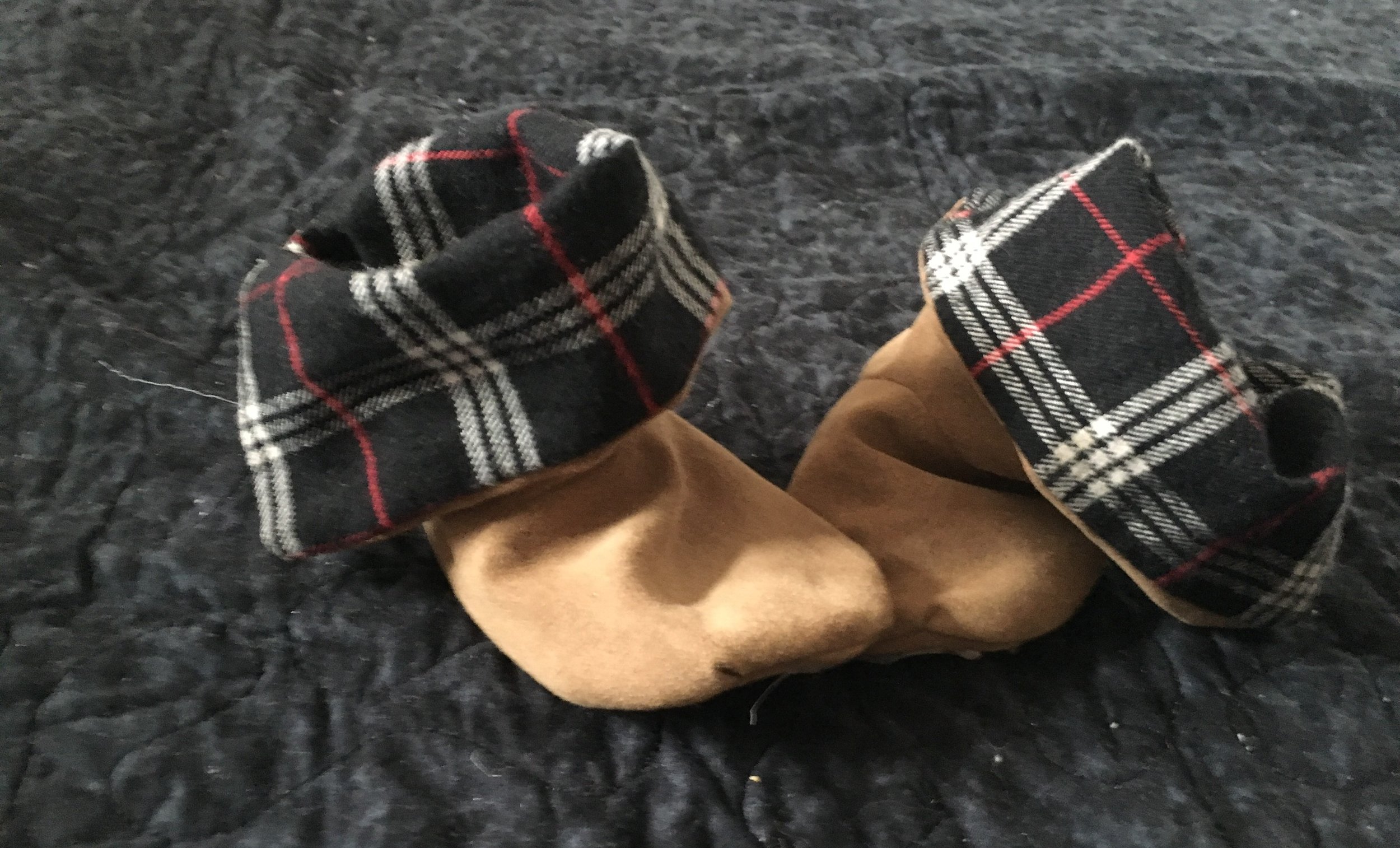 aaaaand some baby booties! The outside is from an insane men's shirt I found at the thrift shop and used (along with a second hand monkey costume) to make a baby Ewok costume for halloween!
Around here I finally started making myself something, but it was originally borne of an idea for my mum. She's a quilter, so when I saw the Blueprints for Sewing Geodesic, I knew I wanted to make it for her. My first go-out I did in a beautiful marble "summer sweat" (really a lightweight french terry) by About Blue, purchased from Carden Fabrics.
I instantly fell in love with the finished project, which I think of as my Fancy Floor Sweatshirt, and decided to make mum another. Which I justified because this one-fabric business didn't look as quilt-y as it could, and also it was a slim fit and I figured mum would like a looser one. So I made hers with leftover purple hemp french terry (from Simplifi) I had used for diaper inserts, more of the marble, and a couple lovely knit jacquard from L'oiseau. She says she likes hers better, so we all win.
After playing with the Victory Patterns design-a-dress tool on their website, I pulled out Boundless Style from the library and made a hella cutesy/goofy shirt with a bedsheet and a thrifted skirt. It's not really my style, but also could be considered a very nicely finished wearable muslin with fabric sources that cheap, looking back, so I'd call it that? I've worn it twice since, but as my introduction to french seams, and all kinds of other lovely things, I love it. And now Matthew's bought me the book, so dresses are in my future!
I also went and made myself a shortened Kielo wrap dress, because I bought a buncha bamboo jersey when Carden closed, and it was soooo slinky.
At some point in the year I made baby a sleeper with the Brindille and Twig Footie Coverall pattern. It's really a lovely looking thing, and I drop the crotch by a few inches and make the gusset more generous to fit over my long-bodied baby's heavily-stuffed nighttime cloth diaper. It's the only sleeper that actually closes up properly.
For Christmas I made baby a stuffed animal from scraps (stuffed with scraps) (it's heavy) and a lil sweatshirt with ADORABLE winter print from Prairie Wilds, made Matthew a tie from an old Frank and Oak shirt that had gotten sadly stained, and made my brother a pair of socks. I'm probably happiest with the stuffie. The socks are reportedly quite comfy but lord, the TWT pattern for socks is thorough to the point of making a 2-piece pattern very confusing (I didn't get a photo of this, so in lieu, two views of the stuffie). And the tie is nice, but I might want to do a more traditional technique -- the named pattern makes a great shortcut, though.
And right under the wire, there was the Gable shirt. Mine didn't work out perfectly, for me, but it fits my mom quite nicely and was a great way to use a lil cut of fabric for an adult.
sooooo.... i'm almost certain there was more, but w/e. this was lots of stuff, man, who knew?